November 20th, 2017 &nbsp
decode
&nbsp
news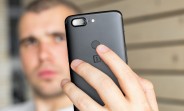 The OnePlus 5T starts selling tomorrow – 21.11 – and eager buyers are getting the chance to soak up the early reviews before they device if the phone's worth it or not.
Our own detailed review is up and found the 5T pretty good. It's taller screen is great, battery life has remained solid but the camera didn't impress.
One thing we don't test is durability and that's where JerryRigEverything comes in. Below you can see his thorough test of the OnePlus 5T.
OnePlus' new flagship scratches at the same level 6 as any modern flagship (barring the plastic-screened Galaxy S8 Active),…