July 6th, 2017 &nbsp
decode
&nbsp
news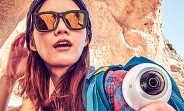 Last we heard, the 2016 variant of the Samsung Gear 360 camera was going for $157 in the United States. Well, if you missed that deal for some reason, you'll be glad to know that the price has dropped further.
A quick look at the device's listing on Amazon reveals a tag of $139.99. The model on offer is the US version with warranty.
The listing doesn't say when the offer ends (or if it's a permanent price cut), so those interested in availing it may have to act fast.
Source | Via