March 5th, 2017 &nbsp
decode
&nbsp
news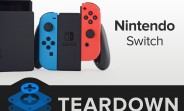 iFixit got its hands on the new Nintendo Switch and managed to tear it down promptly. The console, the two Joy-Cons, and the dock, all got the teardown treatment and in the end the system got a very good score of 8/10 for repairability.
Some things of note from the teardown:
The console does use tri-point screws, which are less common and most people likely won't have a screwdriver for it. But apart from that there are no further complications in the design and everything then comes off easily if you have the right screwdriver.
The Switch has a fairly comprehensive…