February 15th, 2018 &nbsp
decode
&nbsp
news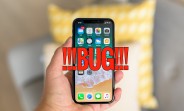 A new iOS 11.2.5 bug has been discovered, which affects iPhones and can crash iMessage, Facebook Messenger, WhatsApp, Gmail or Outlook. All it takes is a specific Telugu symbol and the app becomes nonresponsive.
Telugu is an Indian language spoken by some 72 million people and it's unclear why iOS 11.2.5 has trouble loading its symbols.
Once the symbol is received the only way to recover access to iMessage is if another person sends you a message and you delete the other thread, containing the troublesome symbol.
Another iOS bug is crashing iPhones and disabling access to iMessage…