July 18th, 2017 &nbsp
decode
&nbsp
news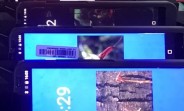 Sharp was rumored to unveil a couple of bezelless smartphones on July 17, but that didn't happen. Last week, a teaser image alleged to be of one of the upcoming phones surfaced, revealing a design inline with previous rumors.
Now, a new image has appeared. It comes courtesy of Foxconn's VP, and shows several prototypes that are currently in testing.
Quite obviously, the design revealed by this new image is different, especially when it comes to bezels. So if that's one of the upcoming Sharp phones, we may need to lower our bezelless hype.
We previously heard that the devices…