January 5th, 2018 &nbsp
decode
&nbsp
Android 7.1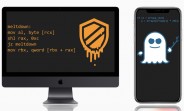 Yesterday it was revealed that the large majority of the devices that we use powered by Intel, AMD and ARM processors are vulnerable to attacks via two security flaws – named Meltdown and Spectre.
These are serious vulnerabilities and the whole industry is responding accordingly. Today Apple confirmed that all Mac systems and iOS devices are also affected by the Meltdown and Spectre vulnerabilities:
All Mac systems and iOS devices are affected, but there are no known exploits impacting customers at this time.
It then went on to reassure customers by confirming that it had started to…