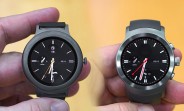 LG announced a duo of Android Wear 2.0 smartwatches a couple of weeks ago – the LG Watch Style and LG Watch Sport. They both feature circular displays and are the first watches to come with the new Wear 2.0 OS.
We spent some quality time the Style and Sport, and we are ready to share with you some first impressions.
LG Watch Style
LG Watch Style is the smaller and cheaper model of the duo. It has a 1.2″ P-OLED screen, 360px in diameter. The watch case is 10.8mm thick, which is fine for a smartwatch nowadays. The case diameter is 42mm.
The Watch Style doesn't come…