September 27th, 2018 &nbsp
decode
&nbsp
news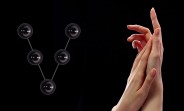 LG said it will announce its V40 ThinQ flagship on October 3, but the company ended up making this a two part affair. So the LG V40 ThinQ is now officially announced on the company's website, but most of its specs are still a mystery.
What LG did reveal is that the handset will feature slimmer bezels than its predecessor and will have a larger 6.4-inch display. The V40 ThinQ will also come in a new flavor – Carmine Red.
Judging by the press photos and the teaser video, it will boast soft-touch surface on the back for better grip and overall feel.
More importantly, though, LG…