February 25th, 2017 &nbsp
decode
&nbsp
news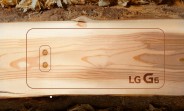 We love how open LG is about the upcoming LG G6 flagship. The company uploaded a small cache of videos highlighting key features of the flagship, starting with the dual cameras.
LG flexed some hashtag muscle to boast .
Next up is a video that asks the uncomfortable question "Too Big?" and isn't very subtle about showing a Galaxy S7 a second later.
Then we go to the other extreme – "Too Small?" This time it's an iPhone SE that gets sideswiped.
I guess the LG G6 is the Goldilocks of this story – it chooses a screen that's not too big, not…