April 20th, 2017 &nbsp
decode
&nbsp
news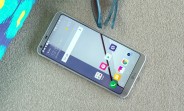 LG has announced that the G6 will be officially launched in Europe on April 24 (next Monday). The company said the phone will be available through 33 carriers, including Vodafone, Orange, T-Mobile, and Telefonica.
A total of 24 countries in the region will get the handset including the UK, Sweden, Finland, France and Germany.
Those who've pre-ordered the phone in the UK (and have already been paid in full) will start receiving their units today. The device is already available for purchase in the US, where it officially landed on April 7.
Source | Via