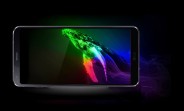 LG Display will soon ramp up production for 6th generation OLED screens for phones and LG Electronics and Xiaomi are interested.
LGE is gearing up to build the LG V30, which may have a curved screen like its Galaxy competition. Some rumors claim the V30 will drop the secondary screen and an Always On Display would make a nice replacement.
Xiaomi already used an LG-made flexible OLED panel on the Mi Note 2 and will use one again for the upcoming sequel.
Other companies are interested too – Google offered $880 million to help LG boost production so OLEDs can be used the Pixel 2 phones….