August 18th, 2017 &nbsp
decode
&nbsp
Android 7.1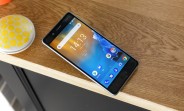 The Nokia 8 is here and it's a big deal. This is the first Nokia flagship in quite a while and the first Nokia flagship running on Android. As such there's a lot riding on the Nokia 8 to succeed and it will take more than just good specs and nostalgia to do it.
Looking at this phone as a Nokia product, we see a lot of familiar traits. The attention to detail in the design and the build is undeniable. There's also a simplicity to the Nokia 8 that's unmistakably Scandinavian.
The cameras are good too, coming as a product of a collaboration between Nokia and Zeiss.
A good screen is…