November 29th, 2017 &nbsp
decode
&nbsp
Android 7.1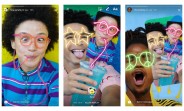 Instagram has added yet another new feature today. We're talking about the ability to 'remix' the photos your friends send you through Instagram Direct.
Now when you view a photo message from a friend in Direct, if you tap the camera icon at the bottom you capture a reply. This reply includes a sticker of the image you're replying to. The sticker can be moved or resized, and then your own stickers, text, and drawings can be inserted on top.
Once you sent your reply created in this way, the recipient can then remix your remix and send you that… and so on.
In addition, you now…