March 4th, 2018 &nbsp
decode
&nbsp
Android 7.1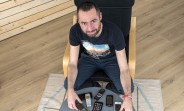 Past Tense is our latest series of articles in which GSMArena veterans take you on a nostalgia-infused ride through the years.
Experience first hand how the industry evolved and how it shaped us, one phone at a time.
How this tech journalist started his way
Hi, my name is Kaloyan, 32y old, and I've been with GSMArena for 10 years and counting. Three years ago, I shared my phone history with our readers in a rather dry, list-like manner. Now that we're running the Past Tense featurette, I've decided to retell my story but with a shifted focus.
So, how did I choose my first…