March 7th, 2018 &nbsp
decode
&nbsp
Android 7.1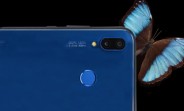 Vodafone Spain already spilled the beans on the Huawei P20 Lite, now it's TENAA's turn. Note that while they appear similar, this Huawei P20 is a different model.
The specs line up, starting with the 5.84″ screen with 1,080 x 2,280px resolution – that's a 19:9 screen.
Huawei P20 Lite (photos by TENAA)
Unfortunately, the photo of the front is too dark to see if there's a notch, though it certainly looks like one is present. This unconfirmed photo shows a piece missing from the screen.
Unconfirmed photo of the Huawei P20 Lite in the dark shows off its notch clearly
The…