September 28th, 2017 &nbsp
decode
&nbsp
Android 7.1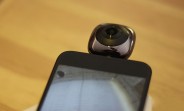 Huawei's portfolio of mobile products includes a 360-degree camera named CV60 that was limited only to China until today. The Chinese manufacturer finally brought the gadget to Hungary, meaning it is starting its European rollout.
Huawei Panorama 360 Camera
Each of the two cameras has a 1/3.06″ Sony sensor and f/1.8 lens. Photos max out at 5326 x 2688 pixels while video recording comes in either 1920 x 960 (30 fps) or 1280 x 640 (30 fps again). The gadget has an iCatch V35 SoC for processing the images.
The CV60, also named Huawei Panorama 360 Camera, was presented by a…