January 6th, 2018 &nbsp
decode
&nbsp
news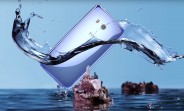 Oreo for HTC U11 started rolling out mid-November last year. The update first arrived in the company's home country of Taiwan, with units in the US getting it around a couple of weeks later.
However, Europe hasn't been lucky as units in the region are yet to receive the new OS. Now, the company has publicly apologized over the delay. HTC UK's Twitter account issued an apology yesterday.
We're sorry for the delay in delivering your Oreo update for the HTC U11. We have started to roll out the update globally but have had some complexities that have caused a delay to our release in Europe….