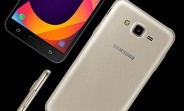 Samsung recently launched a new smartpone dubbed Galaxy J7 Nxt. The device is currently only available in India, where it costs around $180. However, aside from India, the handset will also be made available in several other markets.
Here's the complete list:
Afghanistan, Algeria, Bangladesh, Egypt, Ghana, Indonesia, Iran, Iraq, Kenya, Kazakhstan, Libya, Malaysia, Morocco, Nepal, Nigeria, Pakistan, Philippines, Poland, Russia, Saudi Arabia, Senegal, Singapore, South Africa, Sri Lanka, Thailand, Tunisia, Turkey, Vietnam, UAE, Ukraine, UK, and Uzbekistan.
There's, however,…