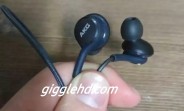 As with everything Galaxy S8 related we get a new leak, this time of the earbuds that will come with Samsung's new flagship.
The new pair is made and tuned by popular headphone and music equipment brand AKG and should be a big step up from the generic white earphones of past Samsung phones.
Samsung Galaxy S8 earbuds
Since these are earbuds we can't tell much about them from a photo aside from the fact that they sport a braided cable, instead of a rubber one. This means they'll pick up less grime over the years and will tangle less.
Samsung Galaxy S8…