February 26th, 2018 &nbsp
decode
&nbsp
Android 7.1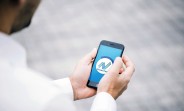 We're happy to lift the curtain off an exciting development over here in the GSMArena testing labs.
After months of prodding and fine-tuning, we're almost ready to deploy an automated system for testing the battery life of the phones we review.
This is possible thanks to our partnership with SmartViser, a company which specializes in creating custom solutions for phone testing automation based on their app called viSer. Yes, it's an app but it's not something you'd find available for download on the Play Store.
The ViSer App can control and automate almost every aspect of a…