October 2nd, 2018 &nbsp
decode
&nbsp
news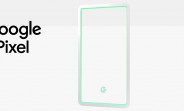 Google is teasing the new version of Active Edge on the Pixel 3 and Pixel 3 XL with a video focused on the act of touching, squeezing and hugging objects and people.
The video also signals the Pixel's arrival to the Japanese market. Google has set up a landing page for Japanese customers interested in getting the Pixel 3/3 XL.
Sadly the video doesn't show the phones themselves, but some of the colors accented in it can be interpreted as tips to the Pixel 3/3 XL's color options.
We already have a good idea of what Google's latest two phones will pack and a great idea of what…