February 8th, 2018 &nbsp
decode
&nbsp
news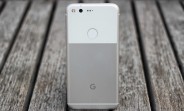 Looks like the microphone problem with original Pixel phones is back to haunt Google. The company is facing a lawsuit, with complainants alleging the issue was there from the beginning, and despite knowing this, Google continued to sell the handsets.
Interestingly, while none of the named plaintiffs sent their units for repair, the lawsuit alleges even the replacement phones had the same problem.
It's worth mentioning that the lawsuit is being handled by Girard Gibbs LLP, the same firm which is also handling the lawsuit related to Pixel 2's display.
Google is yet to officially…