September 28th, 2017 &nbsp
decode
&nbsp
Android 7.1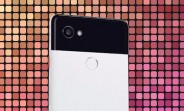 You have to give it to Google – this was a great misdirect. "No 3.5mm headphone jack". That sucks, but how about no SIM card slot?
According to rumored info, the Pixel 2 will have an embedded SIM card so you switch carriers without having to switch SIM cards. Yes, that's the same setup as the new Apple Watch. But check out the carrier support for the watch. We're sure the new Pixels will work great with Google Fi, but that's of little comfort for Europeans.
At any rate, this info could be wrong or there still might be an old-school SIM slot.
Moving on, both the Pixel 2 and Pixel…