October 3rd, 2018 &nbsp
decode
&nbsp
news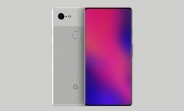 Some of you might have heard that rumor going around claiming that Google is preparing a Pixel Ultra smartphone and the company will announce a trio of smartphones instead of the expected Pixel 3 and Pixel 3 XL. There's also a second variation of this rumor and it sounds like it's coming straight from an Alex Jones conspiracy theory. Well, Google just shut down those rumors with humor and a pinch of sarcasm.
Pixel 3 XL and Pixel 3 in black
According to some unnamed sources, the Pixel Ultra was going to feature a nearly bezel-less display with little chin and no notch at the top….