October 28th, 2017 &nbsp
decode
&nbsp
news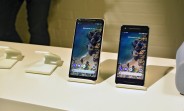 And the Google Pixel 2 issue list continues to expand. The latest problem that has come to light is that the quality of audio in video recordings is not up to the mark.
Specifically, it's the background noises that seem to be affected, as clear from the videos below.
You can also check out this audio clip (extracted from a video) which shows how the quality gets worse as the recording progresses, but gets a bit better towards the end.
The problem isn't being widely reported yet, but for its part, Google has confirmed that the issue is there, and a fix is incoming.
Via |…