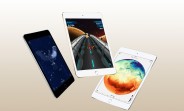 You can currently get the Apple iPad mini 4 at $299.99 (down from $399.99) from BestBuy. That's the price for the 128GB Wi-Fi model (all available colors), while the Wi-Fi + Cellular version is $329.99 (down from $529.99).
While Apple has been busy making its larger tablets "Pro" little love has been shown to the little guys. There have even been reports that Apple is thinking of scrapping the mini altogether.
Currently if you want a small tablet from Apple the mini 4 is the best you can get.
Source | Via