March 22nd, 2017 &nbsp
decode
&nbsp
news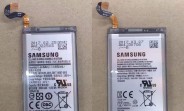 Piece by piece, the puzzle that is the Samsung Galaxy S8 (and its S8+ big bro) is coming together. Following the retail package from a few hours ago, we now have photos of the batteries that go into both phones.
Galaxy S8 battery • Galaxy S8+ battery
The gist of it is that, yes, as initially rumored, the 5.8-inch Galaxy S8 will have a 3,000mAh battery, while the 6.2″ S8+ will pack 3,500mAh worth of juice. Compare that to the 3,000mAh power pack inside last year's 5.1-inch Galaxy S7 and the 3,600mAh in the 5.5-inch S7 edge.
Of course, as we established in the LG G6 review,…