February 23rd, 2018 &nbsp
decode
&nbsp
Android 7.1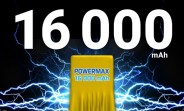 Energizer wants to make a big splash at MWC this year, and it's definitely going to achieve just that with the Power Max P16K Pro smartphone that it will unveil on that occasion.
The company is best known for its batteries, so it makes perfect sense that its next handset will have battery life as a huge focus. Keyword: huge. The Power Max P16K Pro sports a gargantuan 16,000 mAh battery.
That's four times bigger than what you would expect in this day and age in order to call a device one that comes with a big battery. The new Energizer will obliterate its competition in this area….