June 8th, 2017 &nbsp
decode
&nbsp
news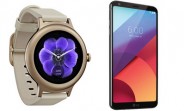 LG has a great deal for those in the US looking to purchase a smartphone and a smartwatch. B&H is offering: LG G6 and LG Watch Style for $599.99.
The phone carries an official price tag of $700, while the watch currently costs $180, so savings are significant. Color options for the phone include black and platinum, while you can have the smartwatch in rose gold, silver, and titanium.
For those who are interested only in the handset, B&H is selling it unlocked for $550. For more information on these offers, head to the Source links below.
Source 1 2 | Via