January 21st, 2018 &nbsp
decode
&nbsp
Android 7.1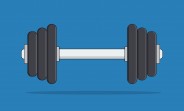 Did you know that the heaviest phone in our database is the Samsung Galaxy Camera GC100? At a hefty 300g, this is one chunky headset though we should give it props for having an entire point and shoot camera built in. 21x optical zoom with OIS, xenon flash and everything!
Samsung Galaxy Camera GC100
Okay, "phone" may be a bit of a stretch here but when you look at the extremes of each measurement you are bound to find some oddities. We should disclose that we filtered out the most unpopular devices – everything on this list is odd sure, but not unheard of.
If you're into selfies,…