April 1st, 2018 &nbsp
decode
&nbsp
news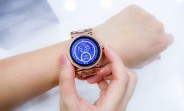 The Timex Datalink was co-developed with Microsoft and first launched in 1994. Since then, many astronauts and cosmonauts have used a Datalink. That's so cool, but it seems that for a long time, smartwatches were more popular in space than they were down here on Earth.
The Datalink models were fairly limited in what they can do. You can set up many alarms (which the astronauts loved), store text notes and even run basic apps, transferred from a computer.
Astronaut James H. Newman (right) wears the Timex Datalink 50 model 70502 on STS-88
Some makers tried watch phones – e.g….