January 6th, 2018 &nbsp
decode
&nbsp
Android 7.1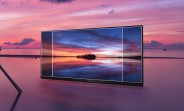 In 2016 there was exactly one phone whose screen had an aspect ratio wider than 16:9 – the Xiaomi Mi Mix. In 2017 that number shot up to 40 phones!
That's about 10% of the just over 400 phones we added to our database last year. And they were popular too, the Top 100 phones (sorted by user interest) included 16 widescreen handsets.
Most of those have 18:9 screens, though a couple of companies went even wider. Samsung launched four models at 18.5:9 and announced two more (the Galaxy A8 (2018) duo), though they are yet to launch so we didn't count them.
Anyway, it's not Samsung but…