January 9th, 2018 &nbsp
decode
&nbsp
Android 7.1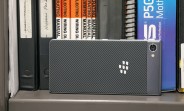 After having success with the BlackBerry Motion and Keyone in 2017, BlackBerry will release at least 2 new Android smartphones in 2018.
At this point we can only guess on what BlackBerry has in store for 2018 but we could at least expect successors to the Motion and Keyone and perhaps even an entry level phone.
The BlackBerry Motion will finally go on sale in the US, starting January 12. It will retail for $449.99 and will be available online at Amazon and BestBuy.com. The Motion launched in Q4 of last year but initially skipped the US market.
In addition, BlackBerry will…