March 15th, 2018 &nbsp
decode
&nbsp
Android 7.1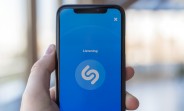 Back in December Apple struck a deal to acquire music recognizing service Shazam for $400m but the deal was put on hold by the European Commission, pending an investigation.
The concern is that Apple will acquire a lot of user data with Shazam, much of it outside of its ecosystem – UK-based Shazam is a global service.
Apple has filled a formal request with the EU Commission on Wednesday for the approval of the deal and a deadline of April 23 has been set.
The Commission will either approve the deal or commence an additional investigation that could be up to 4 months…