November 2nd, 2018 &nbsp
decode
&nbsp
news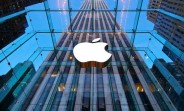 Apple posted its financial results for the Q3 of the year (and Q4 of its fiscal year). The highlight of the report is the revenue of $62.9 billion, over 20% increase on a yearly basis.
Apple quarterly results
In Q4 2018 Apple sold 46.8 million iPhones and nearly 10 million iPads, both numbers almost exactly matching what it achieved this time last year. The revenue from the iPhones was significantly higher, though, due to the increase in the average selling price.
Services like Digital Content, AppleCare and Apple Pay brought in close to 10 billion in revenue, their best ever…