December 6th, 2017 &nbsp
decode
&nbsp
news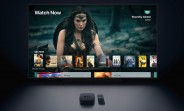 Way back at the WWDC in June Apple announced that Amazon Prime Video will come to Apple TV before the end of the year and it looks keen to keep its promise.
Apple mistakenly leaked a story about the launch of Amazon Prime Video for the Apple TV, which was picked up by Reddit user studio1burbank.
He set his phone's date and time to 1 day in advance and got a promo in his App Store about the Amazon Prime Video for Apple TV.
Apple has since hidden the promo but it's clear that it will update the Apple TV to support Amazon Prime Video quite soon, likely this week.
The new Apple TV…