February 6th, 2018 &nbsp
decode
&nbsp
news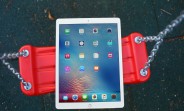 Tablets are not selling as well as before – Q4 of 2017 saw 7.9% less tablets shipped compared to Q4 of 2016 while 2017 as a whole saw a decline of 6.5% over 2016.
And yet despite this turmoil Apple, Amazon and Huawei managed to see growth in slate shipments –
both in the final quarter and in 2017 in general.
Apple shipped the most tablets in Q4 of 2017 and 0.6% more than the previous year while Amazon achieved a huge 50.3% jump over last year's Holiday quarter thanks to some aggressive discounts.
Samsung dropped to third in Q4 of 2017 and saw a 13% decline of tablet shipments…