September 29th, 2018 &nbsp
decode
&nbsp
news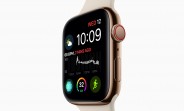 Apple has issued a new update to watchOS shortly after the major 5.0 release last week.
Version 5.0.1 is a bug fix release and fixes some of the minor issues in 5.0. Of the three mentioned fixes, two relate to fitness tracking. The third issue has to do with charging. These problems may not be affecting everyone (we didn't notice anything) but if you did then you'd be glad to know they are fixed.
At 37.3MB, it's a quick download although as usual, the watch will take its own sweet time installing it and will require you place it on the charger.