July 13th, 2017 &nbsp
decode
&nbsp
news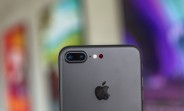 Apple engineers are reportedly working tirelessly to implement a 3D laser sensor to the back of the iPhone 8 that will help improve autofocus and be used for Augmented Reality.
It's reportedly a vertical-cavity surface-emitting laser and will bring a huge improvement to depth detection.
The new laser sensor will be vital for Apple's newly announced ARKit, which developers will use to develop AR experiences for the iPhone. Currently devs can only use the iPhone's main camera to develop AR apps.
A laser system on the back of the next iPhone will also greatly improve autofocus….