November 17th, 2017 &nbsp
decode
&nbsp
news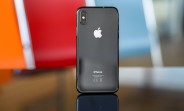 Apple has sold out the iPhone X in South Korea – LG and Samsung's home market.
South Korea's biggest carrier – SK Telecom – has confirmed that it has exhausted all of its iPhone X pre-order stock in 3 minutes – in contrast, the initial iPhone 7 stock took 20 minutes a year ago.
SK Telecom has said to Korea's Yonhap News Agency that it had less than half as many iPhone X units as it had iPhone 8 ones and that the silver iPhone X took about 1 minute to sell out in pre-orders.
Industry analysts estimate that around 150,000 iPhone X units were allocated to South Korea.
According…