September 14th, 2017 &nbsp
decode
&nbsp
Android 7.1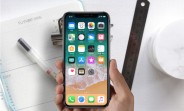 Calling the new breed of phones "bezel-less" is a bit of a misnomer – they do have a bezel, just much smaller than traditional phones. Still, it's how they've come to be known and now even Apple makes one. But screen to body numbers get thrown around and some of them are not quite accurate.
Things like rounded corners and display cutouts make things yet more complicated, but we took the time to calculate the actual numbers, accounting for all the deviations from the classic rectangular screen.
The competitors (not to scale)
So here it is. The Apple iPhone X measures among the best….