February 12th, 2018 &nbsp
decode
&nbsp
Android 7.1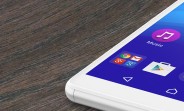 The Sony H8266 is back in the spotlight – after Geekbench, AnTuTu was its next stop. This benchmark is more detailed in the specifications it records so let's compare them to the specs we saw earlier.
AnTuTu reports an 18:9 screen with 1,080 x 2,160px resolution. Now, Sony has been reluctant to make QHD phones, though its 4K-packing Premium phones default to 1080p.
Alleged Sony Xperia H8266 specs by AnTuTu
Anyway, a Snapdragon 845 chipset ran Android 8.0 with fairly standard memory readings – 4GB of RAM and 64GB storage (same as the Xperia XZ1).
The benchmark occasionally…