December 28th, 2017 &nbsp
decode
&nbsp
news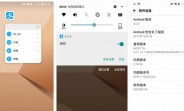 A day after LG announced the roll-out of the final Oreo build for its V30 smartphone, it has come to light that the South Korean company is already testing Oreo update for the G6.
The beta testing is currently going on in China. A user even shared screenshots of an Oreo-powered G6 unit. Take a look:
The software version is V19A, and the list of supported models includes LGM-G600L, LGM-G600S, LGM-G600K, LGM-G600LR, LGM-G600SR, LGM-G600KR, LGM-G600LP, LGM-G600SP, and LGM-G600KP. No information yet on when the final rollout will begin, although that shouldn't take long now.
For more…