April 12th, 2017 &nbsp
decode
&nbsp
news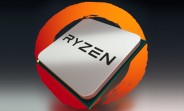 As planned, AMD has released the Ryzen 5 series of desktop CPU after releasing the Ryzen 7 series in February.
The Ryzen 5 series currently includes four models, two of which are 6-core and the rest 4-core.
Starting with the 1600X, you get 6-cores, 12 threads, 3.6GHz base clock, 4.0GHz boost clock, 4.1GHz XFR clock, 95W TDP and $249 price tag.
The 1600 has 6-cores, 12 threads, 3.2GHz base clock, 3.6GHz boost clock, 3.9GHz XFR clock, 65W TDP and $219 price tag.
The 1500X has 4-cores, 8 threads, 3.5GHz base clock, 3.7GHz boost clock, 3.9GHz XFR clock, 65W TDP and $189 price…