May 2nd, 2017 &nbsp
decode
&nbsp
news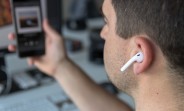 People love their new AirPods. The truly wireless earbuds by Apple scored a near-perfect 98% in a survey done by Experian and Creative Strategies.
942 AirPods owners participated in the survey out of which 82% were "Very Satisfied" and 16% were "Satisfied".
To put the numbers in context the AirPods enjoy the highest level of customer satisfaction for a new Apple product by Creative Strategies. The iPhone had 92% in 2007, the iPad 92% in 2010 and the Apple Watch a close 97% in 2015.
Here are some interesting questions in the survey and the customer satisfaction numbers.
So…