October 12th, 2017 &nbsp
decode
&nbsp
Android 7.1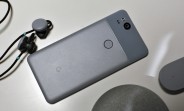 Google officially unveiled the new Pixel 2 series smartphones last week. The devices are currently on pre-order, and in the US, you can only get them from Google and Verizon.
The carrier will start shipping pre-orders on October 19, which is a full week from now. However, if you want, you can checkout the new phones at Verizon stores starting tomorrow (October 12).
Scott Charlston, who is the carrier's PR manager, revealed this information.
Get a hands-on preview of the new Pixel 2. Head to your nearest Verizon store on 10/12. https://t.co/4tf4HuDJGq pic.twitter.com/HWCRRdXUfY— Scott…