August 3rd, 2017 &nbsp
decode
&nbsp
Android 7.1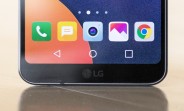 LG has put out a press release from its home country of South Korea where it outlines a few of the features we can expect from the company's upcoming flagship smartphone: The LG V30.
All LG had to show for the display is the following image of the bottom of the front. Here we can see the curved edges and bezel size of the LG V30. That's right, the LG V30 will have dual edges like the Galaxy S8 or the upcoming Note8.
Source: LG Newsroom
First off, the LG V30 will sport P-OLED display panel, which means the base for the OLED panel is a plastic substrate rather than fragile glass….