August 30th, 2017 &nbsp
decode
&nbsp
Android 7.1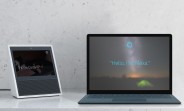 Amazon and Microsoft are teaming up to present a united Smart Assistant front. Starting later this year Amazon Alexa and Microsoft Cortana will be able to talk to each other on Amazon's Echo lineup of smart home speakers and everywhere you can use Cortana – iOS, Android and naturally Windows 10 devices.
Say you have an Amazon Echo – now you'll be able to use Cortana to schedule appointments to your Calendar or read you your emails.
And vise versa – you'll be able to control smart home appliances with Alexa from your Windows 10 PC or order stuff from Amazon.
Let's hope this…